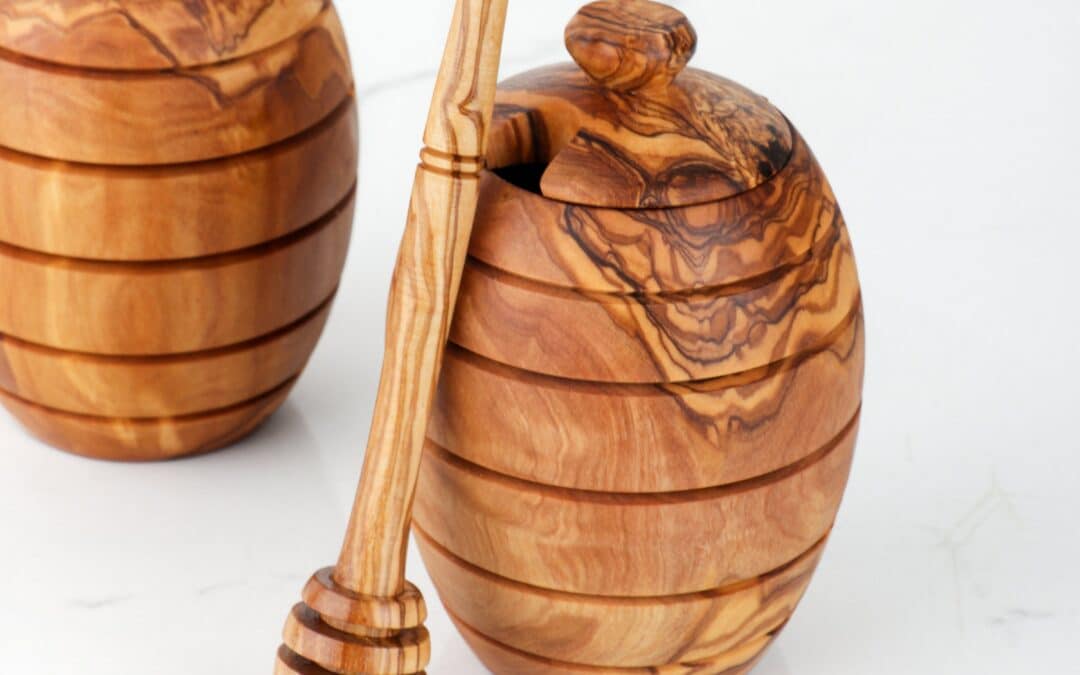 Get your full senses fulfilled with this taste of honey and the smell and touch of this gorgeous set of 2 honey jars. Each honey pot is handmade from the Tunisian non-lacquered olive wood, and sold with its dipper to carry your honey journey away.
ArtisRaw's Honey Jar will help you to perfectly drizzle a light and even amount of your sticky condiment onto your tea or your morning waffles/dessert without leaving a mess.
Rather than a spoon, the honey dipper will evenly and consistently spread honey over the top of a pastry. The wood finish effectively waterproofs itself, allowing foods and liquids to easily dribble off rather than soak into it.
And being made from olive wood, this utensil is naturally antibacterial and will last an age.
🍃 From now on, we are engaged with "TREES FOR THE FUTURE" in the planting of a tree for each order!
Get your favorite handmade product now and take part of our big tree-planting campaign.
💎 ArtisRaw was chosen as the Best Artisan Olive Wood Products Company in North Africa by MEA Markets.
*USE INSTRUCTIONS*
Open the honey jar steady and slow, submerge the dipper and twist to let honey stick to the dipper's grooves on all sides. Take it out and twist again over whatever food you're sweetening. To put in tea, dip the whole thing in a cup of hot water and swirl.
💡💡 KEY INFORMATION
❖ Brand: ArtisRaw® (registered trademark).
❖ Handmade in Tunisia
❖ Each piece is hand carved by skilled artisans from natural olive wood..
❖ Material: Tunisian Olive Wood, derived from Chemlali olive trees variety (darker than other varieties) .
❖Wood Characteristics: Very hard and strong. Olive Wood is durable and moisture-resistant hardwood. Will last you a lifetime!
❖ Colour: Deep brown with strong oil-like grain pattern. Naturally darkens with use. As a natural product, color may vary from listing photos.
❖ Grain & Texture: Our olive wood is very rich with beautiful and strong grain character. Grain and colour can vary as each piece is unique.
👍WE GUARANTEE👌
✅ Contact with food: All our products are food safe. Olive Wood does not absorb liquids, bad odours or colours.
✅ Sustainable: We use wood from very old trees that have stopped fruiting and have been replaced with younger productive trees.
✅Ethical: Our talented artisans are not only paid fairly but we are also helping them improve their skills, increase standards of living and create secure and sustainable livelihoods for future generations.
✅ Moisture content: We dry out olive wood properly so it won't crack or bend over the time. Our moisture meters are always in use.
✅ Coating and Finish: We only sand our products to a smooth finish then wipe them with ArtisRaw Wood Beeswax. We strictly don't use any chemical coatings or glue.
♻️♻️CARE INSTRUCTIONS
Wash in warm water with regular soap. If it ever looks dry, use pure olive oil or ArtisRAw Wood Beeswax. Just a little dab on a paper towel will be plenty.
Do not soak in water and do not wash in the dishwasher.
Do not put too much pressure on the lid, it is designed to have some up and down play once it hit the magnet it will shut tight, if dropped or put under stress the lid may break free.
🛒Click here to explore the full collection of ArtisRaw's Olive Wood Crafts:
https://www.etsy.com/shop/ArtisRaw
❔ If you have any questions or you are looking to buy in bulk (wholesale), feel free to contact us on Etsy or by Email. We'll be happy to make something special for you!
📧 Email: contact@artisraw.com
🌐 Site Web : www.artisraw.com